The 2nd Generation Nomad LS continues to be one of the most versatile sidemount systems on the market. Its unique design makes it capable of easily handling steel or aluminum cylinders. Utilizing a diamond shaped bladder with zero lift baffles, the Nomad LS allows the diver to trim out in a horizontal position with minimum adjustment. The extremely durable exterior SuperFabric™ material is resistant to the elements of diving, whether diving on a quiet reef, pushing deep into a cave system, or scooting through a deck opening on a wreck dive.
Deluxe style harness provides a customizable and comfortable fit for nearly any size diver. The harness can be easily replaced. The waistband is designed to sit lower on the diver's hips, optimal for trimming out cylinders attached to the waist.
Adjustable Bungee System allows the diver to choose between ring, loop, or independent bungees. The laser cut adjustment plate allows for infinite adjustment to fine tune bungee length.
Low-Profile buttplate is easily removed using stainless slides without the need to un-weave the harness.
Accessorize and customize your Nomad LS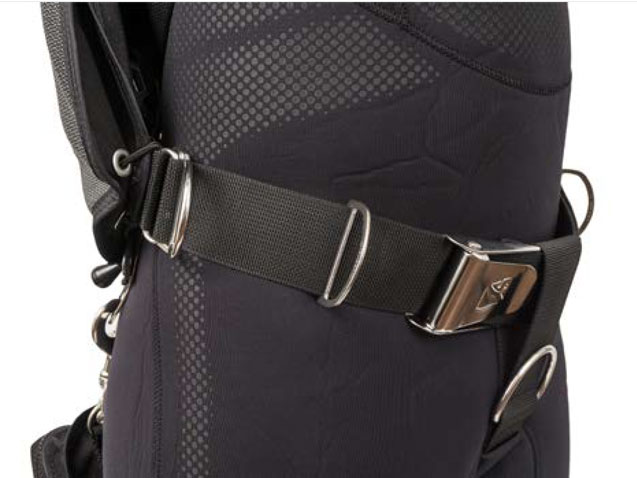 Add Titanium Sliding D-Rings to the waist for use with AL cylinders. D-ring can be re-positioned on the dive to adjust for the buoyancy change of the cylinder.
tech specifications
Outer shell: SuperFabric™ material with double ply 600 denier fabric
Inner bladder: Heavy duty 420 denier nylon laminated
Lift capacity: 35 lbs. (15.9 kg)
Bailout bladder (optional) lift capacity: 20 lbs. (9.1 kg)
Hose: 16-inch (30.4 cm) corrugated with inflate/deflate valve
Exhaust valves: One pull-dump at top, center and one at bottom/right corner of wing; configurable with corrugated hose on left or right side of wing
Cylinder attachment:
Adjustable Bungee System – 30″ of bungee for each side adjustment along with a 2″ Stainless Ring, medium quick link, and medium snap. Chokers include for use with Dive Rite's Ring Bungee and Choker method.
Butt plate: Reinforced nylon to provide the proper amount of rigidity to hold tanks in position and eliminate sag and two stainless steel rails for tank attachment. Easily removed using 2 x 1.5 in stainless slides.
Crotch strap: 2 in. (5 cm) padded strap with scooter ring
Hardware: Marine grade stainless steel throughout
D-rings: Custom low profile angled D-rings on chest, 2 on waist, and 2 each on shoulders straps
Sizing: One size fits all (comes sized as large and can be adjusted as needed to resize)
Weight: 5.7 lbs. (2.59 kg)
Made in USA