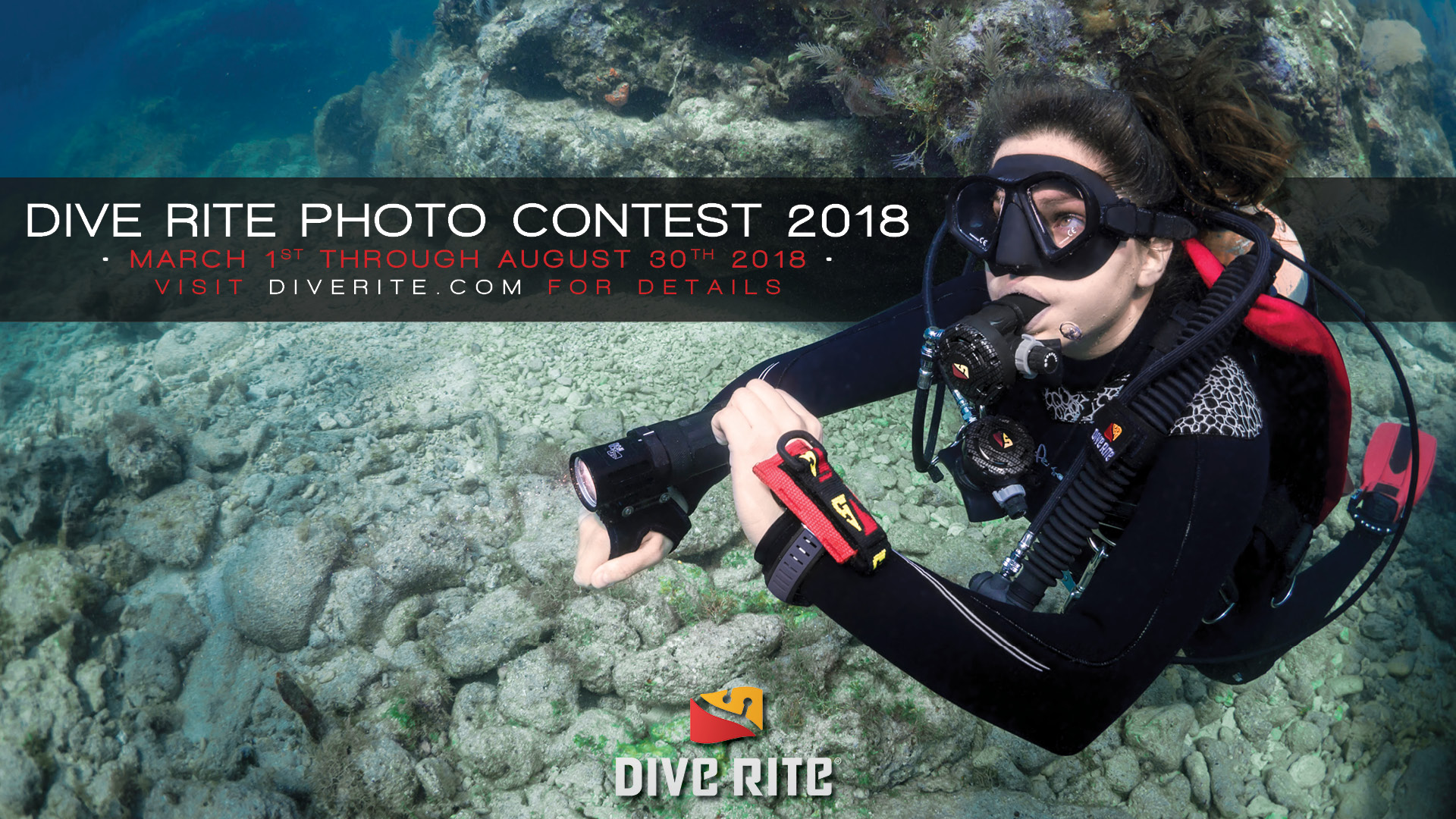 Show us how you Dive Rite!
Dive Rite is challenging you to take fun, creative, and innovative photos in your favorite Dive Rite gear.
Tag us on Facebook and Instagram @diverite84 and use #Diverite to show us how you Dive Rite.
There will be 3 Categories in which photos can be considered for, which include:
I Love Dive Rite 
#DiveRite 
Show us your best photos of the Dive Rite gear you love. Out on the boat, at your local quarry, or diving around the world; let us see you in action with your favorite Dive Rite gear.
Scuba Instruction; Instructors this category is for you!
#DiveRite #ScubaInstruction
Give us the best photos of you teaching in your Dive Rite gear, or show us your students learning in Dive Rite gear.
It makes no difference what agency you teach through.
Photos can be from any level of certification and training.
Dive Rite with your local shop
#DiveRite #DiveShop
It is time to showcase your local Dive Rite Dealers by photographing your local dive shop along with the Dive Rite gear you love.
This can be at the shop or out diving with your shop during events, fun dives, or training.
So, it is time to get creative, silly, and down "Rite" crazy with your local shops in your Dive Rite gear!
Judging
All photos will be judged by the Dive Rite based on creativity, originality, overall wow factor, and how well you showcase your Dive Rite gear.
Dive Rite will anonymously select one winner from each category, and one overall Grand Prize winner.
**One Honorable Mention will be chosen, which will be Lamar Hires' favorite.
Rules(and fine print)
All photos must be taken and posted within the contest dates of March 1st - August 30th 2018
All photos must be tagged on our social media @diverite84 and use #DiveRite to be considered for the contest (via Facebook and Instagram)
Winners will be announced September 7th 2018
Photos may not be copied. If any photos are suspected to be copied the contestant will be ineligible for any winning prize.
Photos must be tagged on our social media, @diverite84 (via facebook or instagram) with #Diverite
Contestants may submit as many photos as they wish in the contest.
No inappropriate content, this is a family friendly contest.
No watermarks or photographer names on the photos to insure anonymous voting.
By participating in the contest and tagging #Diverite in your photos, you are giving Dive Rite the right to use the photo for marketing, advertising, and social media purposes.
International shipping not included in prizes
Prizes
Grand Prize Winner!  : XT1 first stage with a 28" hose and XT2 second stage and a mask of your choice.
I Love Dive Rite Category winner: Slidelock Reel 140', Mask, and a line cutter
Dive Rite Scuba Instruction winner: Instructor kit- SMB, wrist slate, and a finger spool 50'
Dive Rite with your local shop winner: Mask, BX2 w/ soft hand mount & QRM, and a free BX2 and mask to the Dive Rite Dealer you supported.
Honorable mention: $25 credit to swag shop